POSTPONED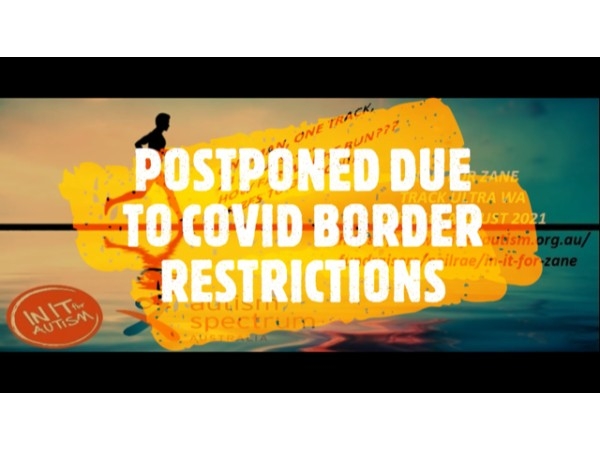 It saddens me to say that after all the hard work and training I've put in towards my 24 hour run, I will be unable to make the date. Due to WA's extreme hard border with NSW I will not be allowed back in the state any time soon! Don't worry to all that have donated and partook in the raffle, all prizes will be on hold until I am able to complete the 24 hour run. Thank you to everyone who has donated so far and to all my sponsors. Nobody could've foreseen this happening!!
Still clocking the k's
Still pounding the treadmill, fought off a persistent bug finally. Feeling a lot better. Nutrition intake and training going well!
Another massive thank you to Justin & Shannon at OC Clothing Co for helping and producing the In it fir Zane running t-shirts and also Tara Turpin for designing Zanes face and turning him into the cutest cartoon figure!! Thank you!!!!
WOW!! Massive thank you to everyone who has helped smash my fundraising goal with just under 4 weeks still to go!! Im humbled by everyone contribution!! Thank you again for all donations!
Clocking up the k's
Hi guys, due to working in remote locations the running has now been transferred to the treadmill for the next few weeks! 
Also exciting news regarding the in it for Zane running t-shirts coming soon!! 
Final sponsors are in!!
Great news, The final sponsors for this amazing event are in!! jump onto the In it for Zane facebook page to see the great prizes to be won!!!
New Sponsors
Hi guys just a brief update, training is going well, clocking up longer runs now that I'm over my tonsillitis. 
Also great news, we have new sponsors on board!! Not only Catalanos Seafood but Freedom Physio aswell! Jump onto the in in for Zane facebook page to find out more!!
Lockdown!!
Still clocking the k's even on lockdown, 1 hour a day!!! 
Covid
As we all now covid is here to stay, but that's not going to hinder my efforts in training, back out tomorrow weather permitting. I've been fighting a bug over the past few weeks what with being run down with work. Still keeping up the kms though!! 
Track training has begun
Hi guys so this week I've managed to get out on to the track and start prepping for the event. After being held up at work for close to a month and just getting back to fitness after the cold, getting out and getting a few hours under the belt went well. Now to increase my times on the track. Remember for a little fun jump on to my In it for Zane Facebook page and have a guess at the distance I'll run in 24 hours!!!
Facebook page is now up and running!!
Please follow this link if you want to take part in a bit of fun!!
In it for Zane
It's that time of year again, I'm helping to raise funds in the name of my son Zane. 
Zane has been diagnosed with low functioning autism along with many other diagnosis, Zane has been through so much in his short life and has always come out stronger. 
What Zane has been through in his short life has pushed me to help raise awareness and opportunities for people on the spectrum, not just Zane.
I believe this charity does this. 'In it for autism' helps provide the best opportunities for people of all ages on the autism spectrum, from tailored educational support to fulfilling work lives and improved social environments. 
Any amount of money I manage to raise for this cause, I'm sure will go along way in helping.
I know its been a tough year for everyone and alot of people might not be able to donate to this cause, that's why I have decided to do a raffle style fund raising.
On the 14th August I will attempt to run 24 hours on the Bunbury track ultra event. 
I will be offering multiple prizes to anyone who can guess the closet distance I will run in this event. There will be prizes for the top 3 closest guesses along with a raffle where peoples entries will be pulled from a hat. 
Watch this space for more details
Thank you to my Sponsors Ashys Pemberton Nu Wealth Centurion Canadian Infrastructure Tristar Water Solutions Hall Paula Mcdonnell Christine Wakefield Gary Summers Michelle Faed Alan & Rachel Weggen Josh Catalano
Fernando Assing Ian Rogers Blake Ashworth Ken Davies Liza Oates Maree Lupica Nola & Paul Catalano Jemma And Chris Macvie Tash And Jason Hook And Boys Janette Falon Vallieres Jim Montague Leena Fernandes Krishna Kishore Lesley And Eric L Reti Anonymous